Benny Howard achieved great success in air racing from 1930-35 with three of his aircraft designs: the DGA-3, two DGA-4s, and the DGA-6, and that success allowed him to pursue a new genre of airplane designed specifically for high speed
"commercial" operation. The last of his race planes,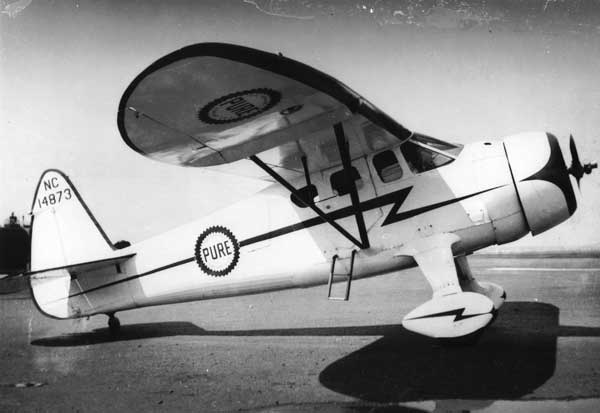 Pure Oil DGA-8the DGA-6, aka "Mr. Mulligan," was a radical departure from previous racing designs of the era because it was a high-wing four-place airplane that was capable of speeds in excess of 300 M.P.H. in level flight! Mr. Mulligan was so successful that he used it to win both the Bendix Transcontinental air-race and the Thompson Trophy pylon race in 1935, commonly referred to the "Benny Howard National Air Races!" One of his DGA-4s also won the Greve Trophy race that same year. So Benny had money from race winnings and a promising design concept for personal high speed air travel in an aircraft that would be fully certified by the Civil Aviation Authority (CAA).


Specifications and Performance
DGA-8

Price (1938)
$14,850.00
Engine
Wright R-760-E-2
Power Rating
350HP (takeoff)
320HP (continuous)
Wingspan
38' - 0"
Length
25' - 8"
Height Overall
9' - 5"
Wing Area
185.52 sq. ft.
Wing Loading
20.48 lbs. / sq. ft.
Power Loading
11.87 lbs. / HP
Crew
1
Passengers
3
Empty Weight
2300 lbs.
Gross Weight
3800 lbs.
Useful Load
1500 lbs.
Fuel Capacity
97 gallons (standard)
127 gallons (option)
Oil Capacity
8 gallons
Rate of Climb
1800 ft. / min.
Service Ceiling
20,000 ft.
Cruising Speed
190 M.P.H.
Maximum Range
1085 statute miles
Landing Speed
48 M.P.H.
DGA-8 Production List
DGA-11 Production List

DGA-8 Type Certificate
DGA-8, 9, 11 Brochure (1938)
DGA-8 Brochure Excerpt
Benny's first attempt in this arena would be his DGA-7, but that design concept never reached the prototype stage before Benny decided on the design that would become the DGA-8. The model 8 was to have a longer wingspan and less horsepower than Mr. Mulligan (38 ft vs. 31 ft), but it would retain a relatively high wing loading for smooth and stable cross country flight. With the model 8 all the fuel would be in the bottom of the fuselage, which
resulted in two advantages—ease of fueling and a lower center of gravity. The powerplant he selected was the highest horsepower seven-cylinder Wright Whirlwind yet developed, the R-760E-2, which produced 350 HP for take-off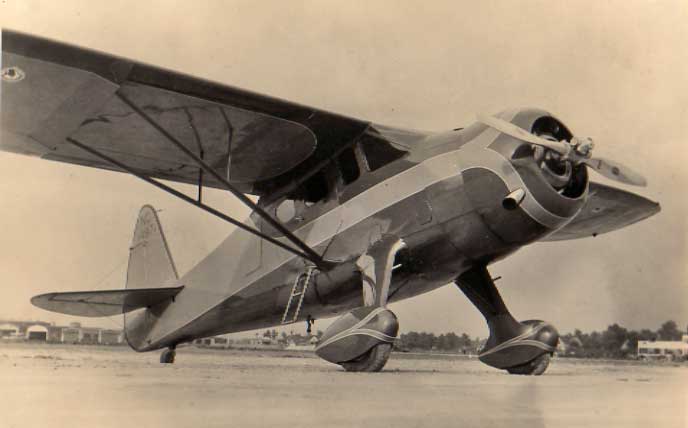 DGA-8and 320 HP for continuous operation. This engine was equipped with an integral supercharger for the high altitude cross-country operations Benny envisioned.

Construction began on the prototype DGA-8 (NC14835), often referred to as "Flanigan," in late 1935 soon after the racing season was over, and it was completed in the spring of 1936. The airplane was put through a flight testing program required for civil commercial certification, and on July 15, 1936, the CAA issued their Approved Type Certificate number 612 under the standards set forth in Aero Bulletin 7a. Benny could now go about starting his company to manufacture aircraft to his approved design, and four model 8s were produced before the year ended. The 1937 Howard company brochure cover shows a drawing of a model 8 in flight leading a Douglas DC-2, as if to say, "our planes are faster than the airliners!"

Many design changes were incorporated as the airplanes were built and put in service. The most noticeable was the tall vertical tail that was added to the prototype as a result of initial flight testing. Another noticeable change made during the production run of the model 8s was to lower the three-point deck angle of the airplane by shortening the main landing gear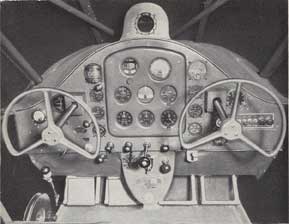 DGA-8 Instrument Panel5 1⁄2 inches. This provided much better visibility in the three-point attitude and better take-off and landing characteristics (i.e., fewer groundloops, "washouts," etc.). Some design changes resulted in new models under separate type certificates as determined by the CAA. The DGA models 9, 11, and 12 utilized the same basic airframe as the DGA-8 but were equipped with different engines and were required to be under new Type Certificates. The model 11 replaced the Wright engine of the DGA-8 with the Pratt & Whitney R-985. All four of these models (8-12) are considered the "narrow body" Howards.

Notably, no known fatal accidents have occurred in the Howard DGA-8, and no airworthiness directives have been issued by the CAA/FAA against this (or any) Howard model to date.